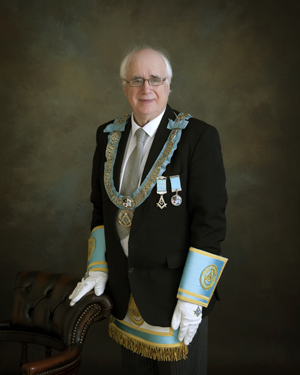 The Provincial Grand Master
In my role as Provincial Grand Master, I welcome you to our website.
The Masonic Province of Tyrone and Fermanagh is part of the Grand Lodge of Ireland and corresponds geographically with the two Ulster counties of the same name.
Further information is contained in the section "About Us" and in the pages charting our history.
I am confident that as our website grows and develops it will become a place of interest for Masons everywhere.
R W Bro Maurice Lee PGM
Next Stated Quarterly Communication
The next Stated Quarterly Communication of the Right Worshipful Provincial Grand Lodge of Tyrone and Fermanagh will be held in the Silverbirch Hotel, Omagh, Co. Tyrone on Wednesday 27th February 2019 at 2:00pm sharp.
VWBro. J Woods,
Provincial Grand Secretary.
A lunch will be held in the Hotel before the Communication.
News
True Friendship 579 Carol service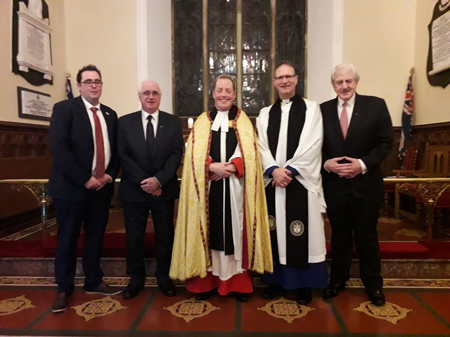 The Lodge of True Friendship 579 Dungannon held their Carol service in St Michael's Parish Church, Castlecaulfield on Sunday 9th December 2018. The Rector Bro Rev Canon Dr Peter Thompson welcomed the many visitors and brethren to the service. V.W Bro Dean Kenneth Hall assisted the Rector...for more
---
Omagh Widows Lunch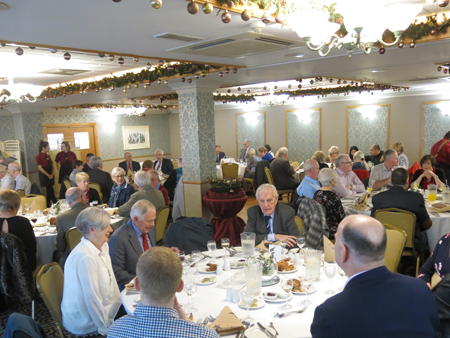 On Sunday 9th December 2018 Omagh Masonic Entertainments Committee hosted a luncheon for the widows and widowers of the four Omagh Lodges - Concore 332, St John's 334, Cappagh 350 and Victory 689. Brethren were encouraged to attend with their wives and children to give the occasion a family-friendly feel...for more
---
Omagh Masonic; Three brethren receive 50-year jewels.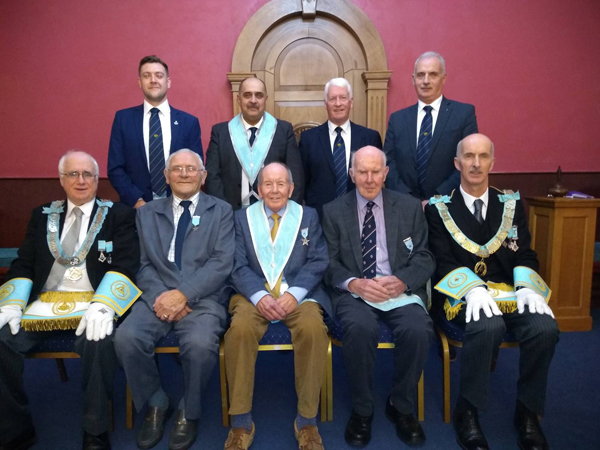 At a function in Omagh Masonic Hall on Tuesday 27th November, three brethren received 50-year jewels from their respective Lodges, namely Mr John Eakin, Mr James Eakin and Mr William Caldwell. Their jewels were presented by RWBro Maurice Lee MBE, Provincial Grand Master, in what may well have been an event unique in Irish masonry...for more
---
RWBro. Maurice Lee visits Bro James Warnock, Victory Lodge 459, Coagh.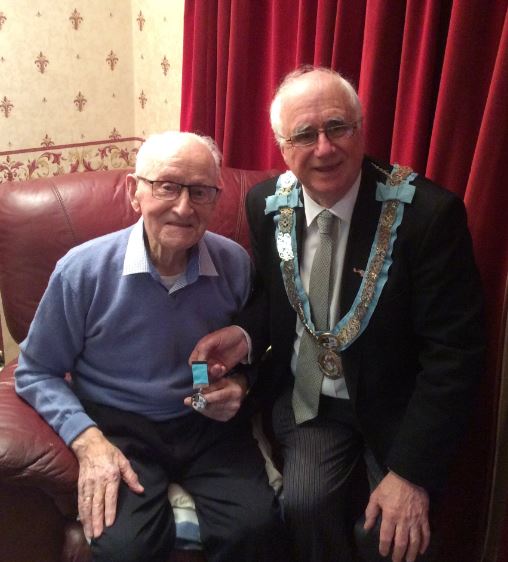 Prior to the PGL Communication in the Coagh Masonic Hall, on the 28th November, the PGM RWBro Maurice Lee visted Bro James Warnock, of Victory Lodge 459, and had the great pleasure of presenting a Tyrone and Fermanagh 150 Year Jewel to him along with the PGL 150 year Booklet...for more
---
Masons Support Air Ambulance Northern Ireland.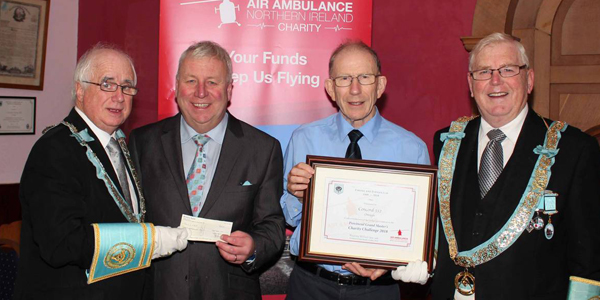 Provincial Grand Lodge of Tyrone and Fermanagh celebrated its 150th Anniversary in 2018 and to mark the occasion the Provincial Grand Master, RWBro Maurice Lee MBE, challenged each of the 41 Lodges to raise at least £150.00 each for Air Ambulance Northern Ireland. There was a ready response to the challenge and over the past 6 months masons across both counties have been organising barbecues, entertainments and other events to meet, and where possible exceed, the target set by the Provincial Grand Master...for more
---