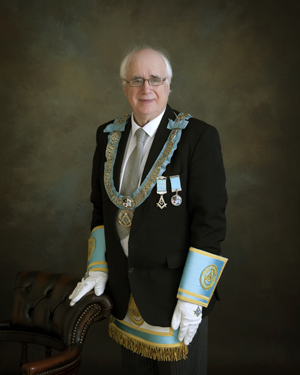 The Provincial Grand Master
In my role as Provincial Grand Master, I welcome you to our website.
The Masonic Province of Tyrone and Fermanagh is part of the Grand Lodge of Ireland and corresponds geographically with the two Ulster counties of the same name.
Further information is contained in the section "About Us" and in the pages charting our history.
I am confident that as our website grows and develops it will become a place of interest for Masons everywhere.
R W Bro Maurice Lee PGM
Next Stated Quarterly Communication
The next Stated Quarterly Communication of the Right Worshipful Provincial Grand Lodge of Tyrone and Fermanagh will be held in the Killyhevlin Hotel, Enniskillen on Wednesday 28th February at 3:00pm sharp.
VWBro. J Woods,
Provincial Grand Secretary.
A Dinner will follow the PGL Communication in celebration of 150 years as a Provincial Grand Lodge, tickets cost £25
News
RWBro. Frank Arnold PDGM celebrates his birthday.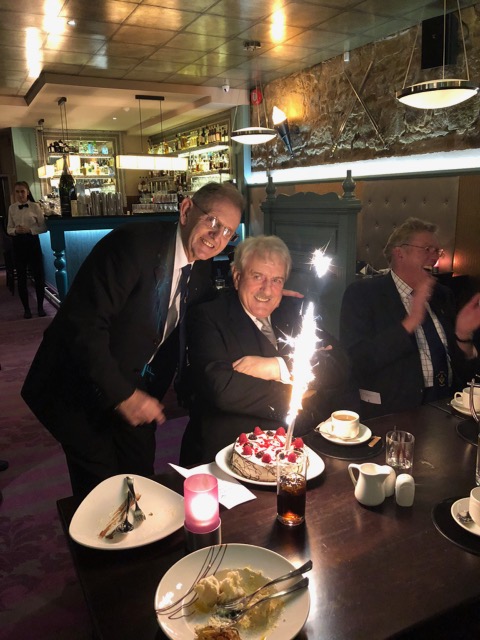 Frank enjoying his birthday cake from Lodge 122 - presenting the cake is Richard Scott on behalf of the members of St Patrick's Lodge 122...for more
---
WBro. Ronnie Balfour receives his 50 Year Jewel and Certificate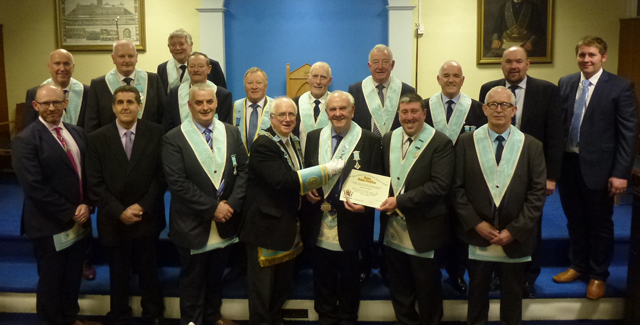 At the Installation of Officers Communication of St John's Ederney Lodge 819 held on 25th January 2018, the Brethren had the great pleasure of presenting a 50 Year Jewel to Worshipful Brother Ronnie Balfour. Wor Bro Ronald George Balfour was Initiated into St John's Ederney 819 on 12th June 1961. He received his Fellow Craft Degree on the 28th September 1961 & finally received his Master Mason Degree on the 26th October 1961...for more
---
RWBro H Weir Past PGM receives his 60 Year Certificate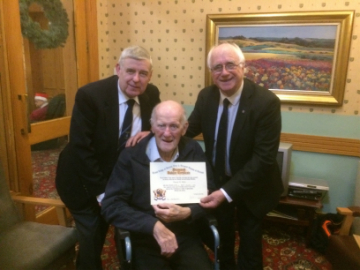 On the 18th December 2017 Stanley , Secretary of Kipling Newporton Ballinamallard 315, along with RWBro Maurice Lee PGM visited RWBro H Weir Past PGM at the Grann Residential Home. During their visit they presented him with his 60 year certificate...for more
---
NI Children to Lapland Trust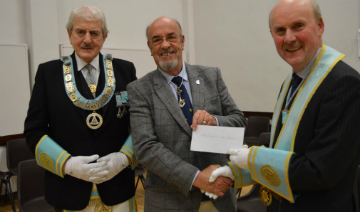 Following a request for support for the NI Children to Lapland Trust the Province has made a contribution of £3000 to the Trust to enable terminally ill children from Tyrone and Fermanagh to visit Lapland this December. W.Bro. Jack Rodgers MBE, Founder and Chairman of the Children to Lapland trust, attended the Provincial Grand Lodge meeting in Omagh when he was presented with a cheque in support of the Children to Lapland Trust...for more
---
Presentation to Marie Curie by Harmony Masonic Lodge 586 Enniskillen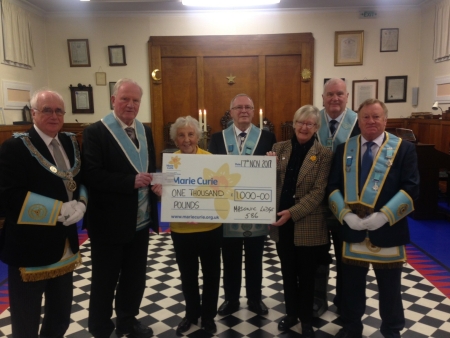 In September 2017 Harmony Masonic Lodge 586 Enniskillen held their annual Charity BBQ and "Night at the Races". This years agreed charity was Marie Curie. At Harmony Masonic Lodge 586 meeting on Friday 17th November 2017 in Enniskillen, Marie Curie were presented with a cheque for £1000.00 by the Worshipful Brother Treasurer Lodge 586 Harold Martin. It was received on behalf of Marie Curie by Mrs Olive Elliott Secretary "Friends of Marie Curie" Fermanagh Branch and Mrs Ruth Young, Marie Curie Fermanagh Volunteer Services...for more
---