Charity Golf Competition for Horizon West Children's Hospice, Killadeas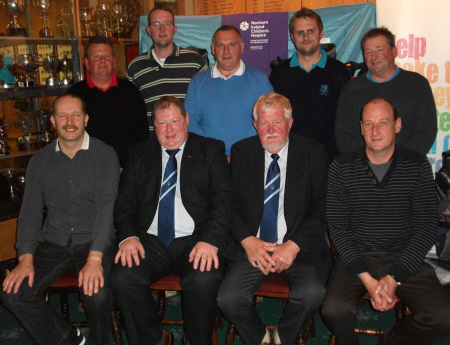 The Worshipful Master, W Bro Sam Gallagher, and W Bro John Bimson
with the winning Golfers
A charity golf competition organised by Newtownstewart ML 547 in aid of Horizon West Children's Hospice raised £1900. To this was added a donation of £600 from lodge 547 bringing the total to £2500, a sum gratefully acknowledged by the "Friends of Horizon West", two of whose members had helped in promoting the event.
The event was held on Friday 11 May 2012 at Newtownstewart Golf Club. Despite the inclement weather 24 teams battled for the fantastic array of prizes put up by local sponsors. Two members of Pomroy Lodge 836, Cyril and Brian Monteith, were joined by Richard Glass and Ian Clements in bringing home the best score of the day to claim first prize.
During the prize presentation W Bro R J McCallan 547 stressed the charitable side of Freemasonry. He reminded those present that £600,000 had been raised by the Order in 2010 and divided equally between the N I Children's Hospice Belfast, The Laura Lynn Children's Hospice Dublin and the Samaritans.
The Worshipful Master of Lodge 547 thanked all who made the day so successful. Special thanks were expressed to W Bro John Bimson and W Bro Robin McCallan as main organisers of the event and Brother Robert Canders for all his hard work during the competition. Appreciation was also extended to those lodges whose contributions, along with donations from businesses proprietors and other individuals, ensured that all the tee boxes were fully sponsored for the competition. The generosity of Newtownstewart Golf Club for the use of the course and facilities was also recognised as were meals provided by the Chef and enjoyed by all.