Mourne Masonic Lodge No 823, Strabane
Lodge 823 raise funds for Knockavoe Special School.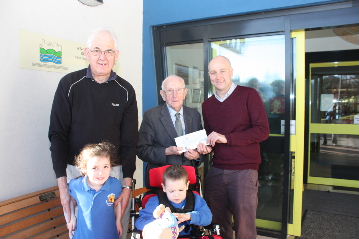 W.Bro Harry Friar, V.W.bro. Hill Robinson & Nick Tomlinson VP.Knockavoe school
Front - Shannon MGinley and Ethon Fuller- pupils
Thanks to the generously of the members and quests of Mourne Masonic Lodge No 823, Strabane, a cheque for £546 was presented by V.W. Bro Hill Robinson to Nick Tomlinson V.P. for the friends of Knockavoe special school. The monies were donated to the charity collection on the occasion of the Lodge 50th anniversary dinner.
The monies will be used for 'Apple vouchers' to purchase educational applications that will enhance communication and numeracy, also to contribute to outings and resources for the summer scheme, in order to extend the experiences available to pupils.