Mason Honoured at Phoenix Masonic Lodge No.836 Pomeroy
836 Stated Communication April 2013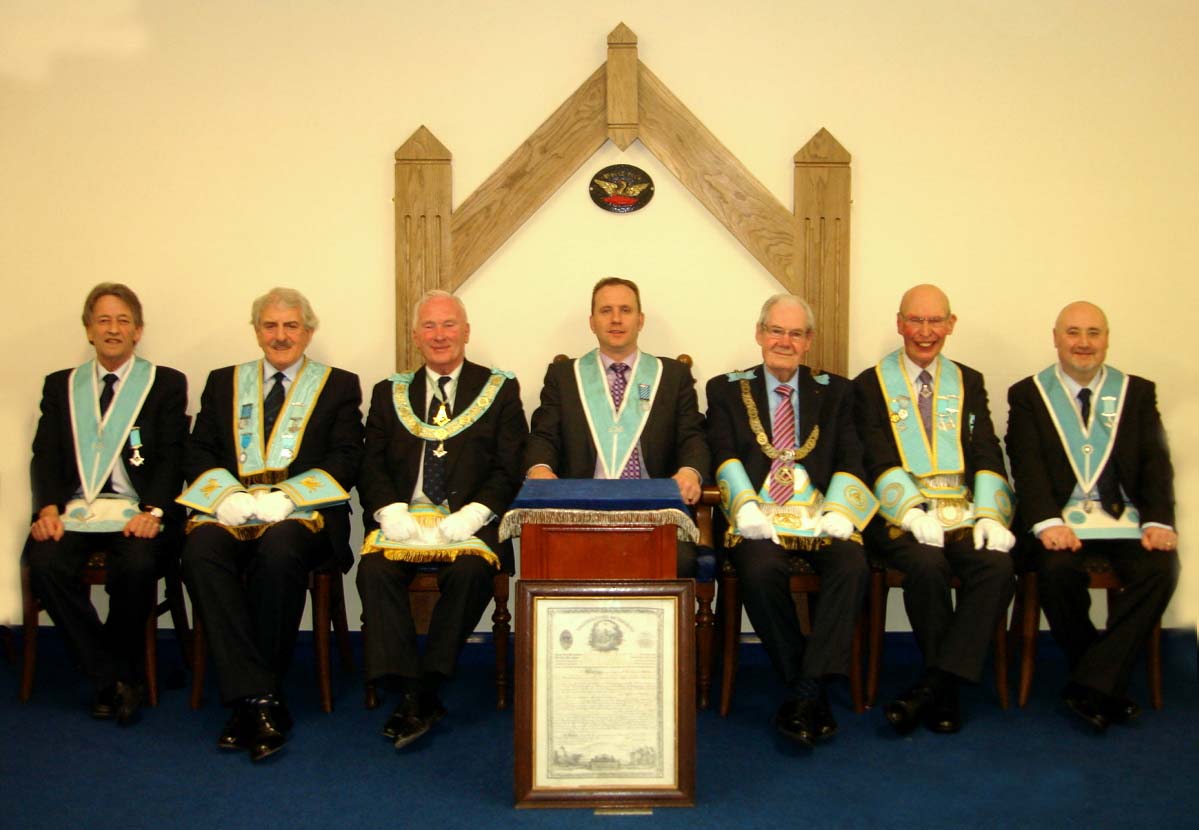 Pictured (seated second from the right) after receiving his 60 Year Jewel is Right Worshipful Brother William (Billy) McLain with the Most Worshipful, The Grand Master, Most Worshipful Brother George Dunlop (seated third from the left), and the Provincial Grand Master of Tyrone and Fermanagh, Right Worshipful Brother Norman Humes JP (seated third from the right) and other Distinguished Brethren.
At the April communication of Phoenix Masonic Lodge No.836, R.W.Bro William McLain was presented with a Certificate along with a Bar to his 50 Year Jewel for 60 years membership of the Order by the M.W.Grand Master, M.W.Bro George Dunlop. The members of Phoenix Masonic Lodge No.836 were joined by a large contingent of members from Scott Masonic Lodge Coalisland where R.W.Bro McLain is also a member.
V.W.Bro Frank Arnold, Provincial Grand Secretary and a member of Scott Masonic Lodge No.300, was invited to speak on behalf of both Lodges prior to the presentation. During the course of his remarks he highlighted many aspects of R.W.Bro McLain's Masonic career which began in Lodge East Belfast No.559 on the 23rd of December 1952 when he received his EA Degree. He was Worshipful Master of that Lodge in 1966. He af?liated to Phoenix 836 Pomeroy in 1962 and commenced conferring degrees.
Since 1962 he has conferred degrees on well over 100 members of Phoenix 836 and since 1967 has installed in excess of 40 of their Worshipful Masters. In 1998 he was Worshipful Master of Phoenix 836. Through a family connection R.W.Bro McLain became a regular visitor to Scott Masonic Lodge No.300 and in February 1967 commenced conferring degrees in the Lodge, and in June 1986 was balloted for affiliation. Since affiliation to the Lodge he has conferred numerous degrees and acted as Installing Officer on many occasions. In 2011 he was Worshipful Master of the Lodge. Between 1990-2000 R.W.Bro McLain was Senior Grand Director of Ceremonies in the Provincial Grand Lodge of Tyrone and Fermanagh and thereafter the representative of the Grand Lodge of Guinea at Grand Lodge for ten years.
ln the Royal Arch his work and achievements are legendary and recognition of him as the M.Ex.District Grand King of Londonderry, Donegal, Tyrone and Fermanagh is very evident with his portrait in a prominent place in both halls. He is the senior member in the Grand Royal Arch Chapter of Instruction having been elected a member in 1971. R.W.Bro McLain is also a Past Chief in the Council of Knight Masons, Past Preceptor in Knight Templar Masonry, Past Most Wise Sovereign in the Inniskilling Chapter of Prince Masons and currently a member of the 30th Degree.
V.W.Bro Arnold said that was a broad brush through his Masonic Career, but conveyed little about the man or his makeup and described R.W.Bro McLain as being spontaneous, and indeed optimistic, and one who has a tremendous love for life, and knows how to have a lot of fun or as he would often say, think of the alternative! When he walks into a room anywhere in Ireland he will know half the brethren present and practically everyone there will recognise him. He is blessed with a great sense of humour which often extends to telling a story against himself. He loves people, and everyone loves and respects him, perhaps it's because he is always so upbeat and enthusiastic.
Those of us who know R.W.Bro McLain as a dear friend will know how unfailingly warm and generous he is. He is very much a team player, and all who have witnessed his lightness of touch and good humour when he occupies the Chair as the M.Ex.Dist Grand King, makes attendance at his meetings a pleasurable experience.
V.W.Bro Arnold concluded his comments reminding the Brethren that as Entered Apprentices we were instructed that our time should be spent learning! Passing to Fellowcraft we were taught to apply what we learned to the duties we owe our families, fellow human beings, and our faith! And as a Master Mason in age, we are reminded to enjoy and reflect upon a well spent life. R.W.Bro McLain personi?es all of that, and as someone who has reached great heights and presided in many branches of freemasomy, despite all his travels whenever he comes through the Lodge door of Phoenix Masonic Lodge No.836 or Scott Masonic Lodge No.300, irrespective of the Regalia he is wearing, to all the brethren in either hall he is, and always will remain, simply Billy McLain.