Latvia Adventure 2
Visit to the Apollo Lodge.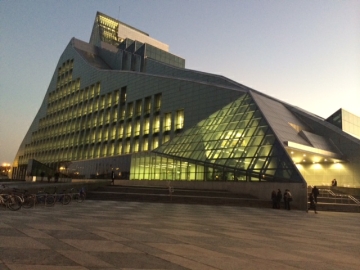 Lativa National Library
In late October 2014, seven Freemasons from the Provinces of Tyrone and Fermanagh, Londonderry and Donegal travelled to Latvia to attend a Stated Communication of Apollo Lodge, for what was a second visit for some and a fourth visit for the Rt. W. Bro Rev Canon Harry Trimble the Representative of the Grand Lodge of Latvia at the Grand Lodge of Ireland. The group included from the Province of Londonderry and Donegal, Rt. W. Bro Noel Drain, Provincial Grand Master, his Assistant Provincial Grand Master Rt. W. Bro Ken Doherty, and W.Bro Ian Rudd. From the Province of Tyrone and Fermanagh, the then Provincial Grand Secretary, Frank Arnold, V.W. Bro Robert Moore and W. Bro. Leslie Shiels and four Ladies. The group were made very welcome with the Past Grand Secretary on hand every day to see to our needs.
The Communication was of great interest to those visiting for the first time who had not experienced their ritual. After Apollo Lodge closed we opened a Lodge according to our ritual and presented a gavel and stand, hand crafted from Irish Oak with a shamrock design on the handle.
At the get together afterwards we had opportunities to share with the Latvian Brethren. The Past Grand Secretary had arranged a visit to the newly opened Latvia National Library, a majestic building overlooking the river where Andris Vilks, the Director, is our guide or the afternoon. In 2014 Riga is European Capital of Culture so there was a great buzz around the city, we were able to join in as we visited some of the impressive buildings, cathedrals and museums, including the Museum of Navigation where the Communication celebrating the tenth anniversary of the restoration of the Grand Lodge of Latvia was held, there we saw masonic items dating back to the early eighteenth century when Freemasonry was introduced to the country.
The general consensus of opinion in the group was, when can we come back. A visit by Apollo Lodge members to Ireland may take place in 2016, it will be a difficult task to return their welcome and hospitality.