MASONS SUPPORT BUDDY BEAR TRUST
Lodges 220, 277, 315, 819 & RAC 819 raise funds for the Buddy Bear Trust.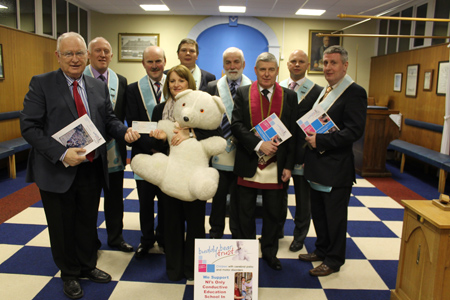 Pictured from left to right are Mr Brendan McConville, W.Bro E Wilson,
W.Bro H C McKee, Mrs Claire Mimnagh, W.Bro J Elliott, W.Bro K Hunter,
Ex. Comp. S McMullan, W.Bro T Corr and W.Bro W Beacom.
On 1st November 2013 a dinner dance was hosted by four Lodges and one Chapter in The Hunting Lodge Irvinestown to raise funds for the Buddy Bear Trust.
A total of £1,500.00 was raised for The Trust which runs a private school in Dungannon. The school specialises in Conductive Education for children with Cerebral Palsy and other Motor Disorders.
The four Lodges involved were Ederney 819, Barton 220, Irvinestown 277 and Kipling Newporton 315. The Royal Arch Chapter was Ederney 819.
On Tuesday 7th January 2014 the Chief Executive of the Buddy Bear Trust Mr Brendan McConville was presented with the cheque by Mrs Claire Mimnagh whose son Daniel attends the school.