Clogher Vintage Car Run 2014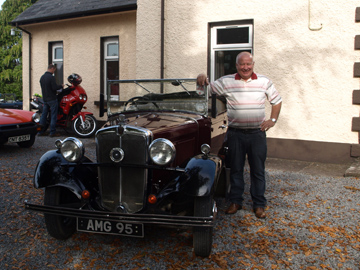 W Bro Richard Mulligan with his car.
In September 2014 Clogher Masonic Hall Committee held a Vintage Car Run in aid of the Hall Restoration Fund and local charities. The event was organised by W Bro Richard Mulligan from Lodge 451 assisted by members of the Hall Committee. Cars taking part included a Ford Model T, a 1936 Rolls Royce, an Austin 7 and a selection of MGs and Triumphs.
The event started at Clogher Masonic Hall with a hearty breakfast cooked and served up by members of the Hall Committee followed by a tour of the Hall. The cars entered by Masons and non Masons set of for Caledon via Augher, Aughnacloy and Minterburn and on arrival in Caledon everyone was treated to refreshments by the members of Caledon Lodge 210.
A tour of the Masonic Hall, Caledon Court House and Caledon Beam Engine house was enjoyed by all before departing for the village of Glasslough for the next stop. Castle Leslie and the local antique shops kept everyone entertained before departing for Monaghan. The members of Monaghan Lodge No 55 welcomed everyone with tea and scones and a tour of their Hall and some of the ladies availed of the oportunity to take in some shopping. After this the cars returned to Clogher via Tydavenet for an evening meal in Corrick House Hotel.