High Honour for Tyrone and Fermanagh
RWBro Leslie Nixon appointed Assistant Grand Master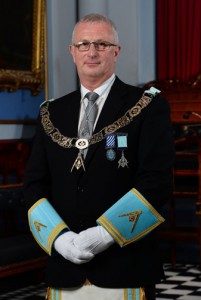 RWBro Leslie J Nixon
Assistant Grand Master
The Province of Tyrone and Fermanagh has been highly honoured by the appointment and installation of RWBro Leslie J Nixon as Assistant Grand Master.
RWBro Leslie is a Past Master and Secretary of Victoria Masonic Lodge 473 Enniskillen which he joined 39 years ago. He has a strong affinity to masonic charities and was Prov. Grand Steward of Charities and secretary/treasurer of the Enniskillen District Masonic Charity Committee until recently. He also served on the Board of Victoria Jubilee Masonic Benevolent Fund, the last four years as chairman.
As a Prov. Grand Instructor RWBro Leslie has shown a great interest in Masonic Ritual.
He is well known and respected in other branches of masonary being a member of Castlemervyn RAC58 , Erne Council 15 and Tandragee Preceptory 105.