Quarterly Communication held 19 November 2014
Installation of Officers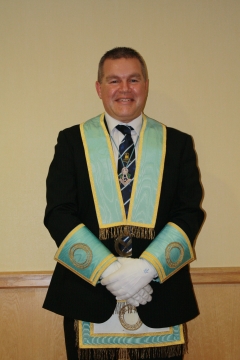 VWBro Johnny Woods
Provincial Grand Secretary
Having opened the Provincial Grand Lodge in form on the Master Mason Degree, and dealt with the minutes of the September Quarterly Communication, matters arising and correspondence, R Wor Bro Maurice installed V W Bro Frank Arnold as Provincial Deputy Grand Master, V W Bro Jo Fleming as Provincial Assistant Grand Master and W Bro Johnny Woods as Provincial Grand Secretary.
V W Bro Arnold was sponsored by V W Bro Lowry Wylie, Union Band ML 336 Banbridge, W Bro Kyle Eakin, Past Master, Scott ML 300, Coalisland, with his nephew Bro Clive Arnold, also from Scott ML 300 as his chain bearer.
V W Bro Fleming was sponsored by W Bro Robert Lyons, Abercorn ML 251, Strabane, W Bro John [Jackie] Fergie, Cappagh ML 350 with Bro Allen Fleming, also from Cappagh ML 350 as his chain bearer.
W Bro Johnny Woods was appointed Provincial Grand Secretary to fill the office vacated by the elevation of V W Arnold to the post of Provincial Deputy Grand Master.
During the meeting R W Provincial Grand Master congratulated three Brethren from the Provincial Grand Lodge of Tyrone and Fermanagh on their election to Grand Lodge Office, V W Bro Leslie Nixon as Assistant Grand Master, R W Bro Harry Trimble as a Grand Chaplain and W Bro Jim McBain as a Grand Almoner.