V.W.Bro.Percy Hill Robinson 72 Years a Mason.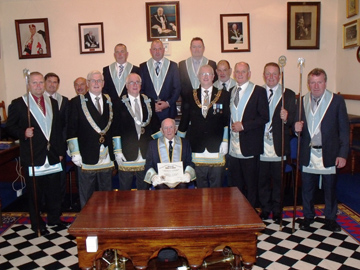 Percy Hill Robinson was born on the 24th October 1920 to John and Jean Robinson. Hill was the eldest of the family having 3 brothers and 3 sisters.
As a boy aged 5 Hill attended Straidhaven Public Elementary School until the age of 13 where he then went to Methody College in Belfast until the age of 16.
On leaving school Hill started an apprenticeship in Belfast with Joseph Blair of Church Lane Belfast in the hardware department. During his time with Joseph Blair Hill also became a Lieutenant in the home guards. He stayed with Joseph Blair for 5 years before departing to Coleraine to work for Simpson and Hill to run the hardware dept.
On the 24th April 1944 Hill Robinson was proposed to join Crumlin 140 by W.Bro. George Thompson and Bro James Baille also on the same night the names off Alexander Herdman and Cecil Hill were also proposed and their successful ballot was held on the 29th may 1944. His 1st degree took place on 25th September 1944 and the degree was conferred by W.Bro. Peter Martin and Bro James Ballie. The 2nd degree was on the 23rd October 1944 and his Master Mason degree in November 1944 conferred by W.Bro. Peter Martin and Bro Delholme. All 3 brethren proposed on the 24th April 1944 received all their degrees on the same night.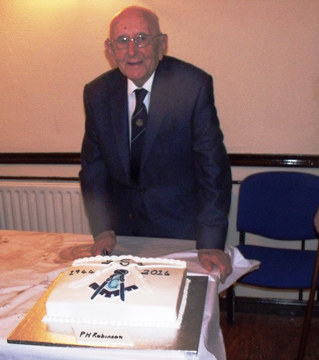 V.W.Bro. Percy Hill Robinson
Hill came to Strabane in 1955 where he co-founded the very well-known Linton and Robinson store with his brother Ronnie and Sammy Linton.
On the 7th September 1956 hill joined Abercorn Masonic Lodge 251.
Hill married his wife Jean in 1957 and, after a long and happy marriage and a family of five daughters, sadly Jean passed away in 2011 after 54 years of marriage.
Hill received the title of Justice of the Peace in 1969 and in 2010 he was made a Member of the British Empire [MBE] for his work to Cancer Research. He has also been President of the Rotary and Round Table Clubs and Captain of the Strabane golf club. Hill retired in 1985 to pursue other interests.
Hill played a very big part in Free Masonary serving different offices in both Abercorn 251 and Mourne 823 and also Provincial Grand Lodge where he was Senior Warden.
Hills life was all about what he could do for others and it's only fitting that we make this tribute to him as he has achieved the remarkable milestone in Freemasonary of 72 years of service and is still keen to hear the day to day running of the masonic.
On the 4th November a cheque for £600 was handed over to Cancer Research having been raised on the night WB Hill Robinson received his 70th year certificate.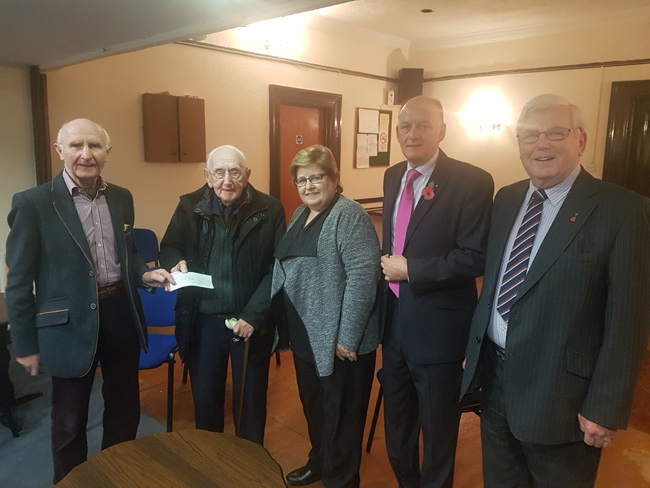 Cheque Presentation to Cancer Research