V W Bro Phillip Grosse receives 50yr Jewel as Clogher ML 451 opens a newly renovated room.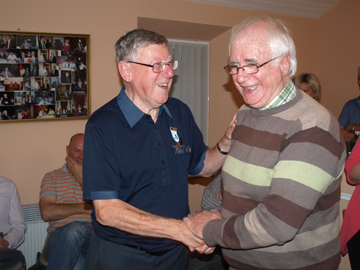 VW Bro Phillip S Grosse and R W Bro Maurice Lee
On the 7th July 2016 the members of Clogher Masonic Hall Committee hosted an informal barbeque to open the newly renovated upper room. Most of the work had been carried out voluntarily by local masons. The R W Provincial Grand Master, R W Bro Maurice Lee, was in attendance and officially declared the new facilities open.
VW Bro Phillip S Grosse, a member of Clogher Masonic Lodge since 1966, was also in attendance with his wife Masie and his brother from England.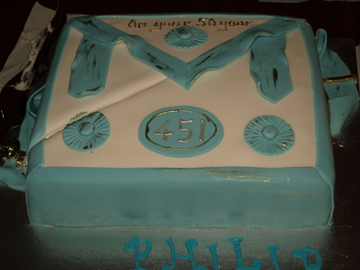 Brother Phil was taken by surprise when the V W Prov Grand Master announced that Phil had joined Lodge 451 on the 7th of July 1966, exactly 50 years ago. Having presented Phil with his 50 year jewel R W Bro Lee outlined V W Bro Grosse's masonic career. Phil served as WM in 1973, and 9 years as secretary and treasurer, returning to take the chair in the 2000 and finally in 2014 when he celebrated his 80th birthday. He also served as a Grand Lodge foreign representative for Mato Grosso, Brazil
Brethren further marked the occasion by presenting V W Bro Phil with a beautiful Masonic cake and his wife Masie with a bouquet of flowers.