HARMONY BBQ and "Night at the Races"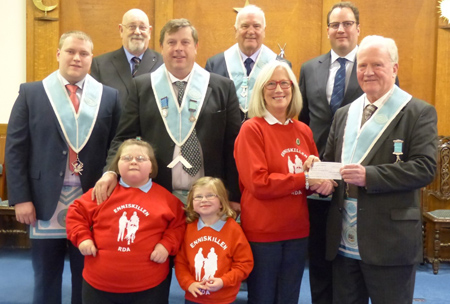 Worshipful Master and Brethren of Harmony Masonic Lodge 586
Treasurer Wor. Bro. Martin handing over a cheque to
Fermanagh Riding for the Disabled Chairperson Mrs Marina Kidney,
included are Riding for Disabled members.
Once again in September 2016 Harmony Lodge 586 held their annual Worshipful Master Charity fund raising BBQ and "Night at the Races". This year's allocated Charity by the lodge brethren was "Fermanagh Riding for the Disabled". The event was extremely well attended and the evening was a success due to the effort of the Wor. Master Wor. Bro. Andrew Burleigh and his organising team. The brethren and their guests collected and enjoyed their fine BBQ selection of salads etc. the butchery was again supplied by our Worshipful Master for 2016, from Riverside Quality Meats Ballinamallard.
Approximately one hundred people attended the BBQ and "Night at the Races" and between each race a raffle for numerous spectacular donated prizes continued all evening. The Lodge would like to thank the many individual brethren and sponsors who contributed wine and other gifts towards the raffle. An auction completed the evening and all monies raised was to be split between "Riding for the Disabled" and other charities within Lodge 586 during 2016/2017, including "Teddies for Loving Care".
Before the Lodge meeting on Friday 21st October brethren met with representatives of "Riding for the Disabled". Mrs Marina Kidney Chairperson and members of the charity who accepted a cheque for £1300.00 the money will go towards helping with this very worthy cause. Once again we thank all those who contributed in making it such a successful charitable evening.