Gortin ML 994 hosts Widows Sons Masonic Bikers Association.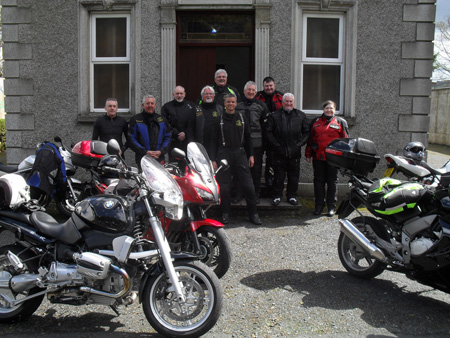 The accompanying photo shows members of the "Widows Sons Masonic Bikers Association" [Northern Ireland Chapter] who called at Gortin Masonic Hall for a "pit stop" while out for a run on 9 May 2016.
Their website www.widowssonsireland.co.uk explains that "Widows Sons Ireland" is part of an international confederation of Widows Sons Chapters. It continues
"We seek to bring together fellow Freemasons who are also motorcyclists, as another way of doing Freemasonry's work and of engaging with the public in the dignified way we believe in."
Whilst founded and based in the Masonic Province of Down, all Master Masons with an interest in motorcycling and in good standing under the Irish Constitution, are invited to join.
After lunch in Gortin Masonic Hall the riders completed the scenic drive in Gortin Glen Forest Park before heading back to Belfast.
Presentation of cheque to Royal Mencap Society, Omagh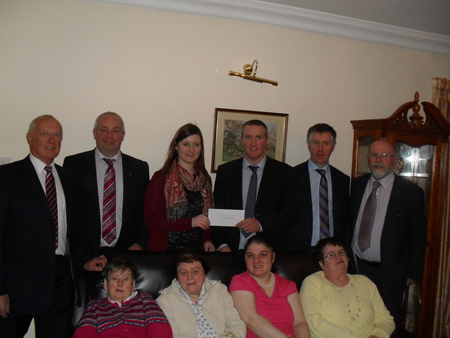 The photograph shows Emma Tilson, Team Manager of Mencap's Supported Living Service, receiving the cheque from W Bro Alistair Crawford, WM. Accompanying the Worshipful Master were [left to right] Rufus McFarland, Ian Hamilton, Malcolm Fleming and Hugh McFarland. Seated are four residents [left to right] Sylvia Hamilton, Bernie Knox, Rosemary Mullan, and Mary Donnelly. The money was raised at a Barbecue and Bingo events organised by the Lodge earlier in the year