Crichton ML 204, Lisnaskea, 150 Anniversary Celebrations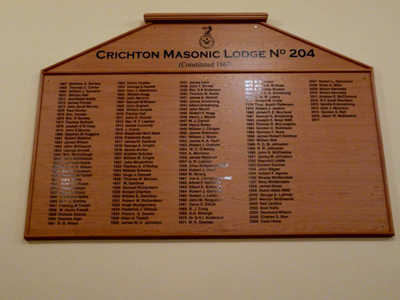 On 20 February 2017 Crichton ML No 204 celebrated its 150th anniversary, having been founded and consecrated on 25 February 1867. To mark the occasion a special service was held in the Masonic Hall, attended by brethren of the Lodge and guests representing Grand Lodge and Provincial Grand Lodges. The Lodge was delighted to welcome The Deputy Grand Master R W Bro Rodney McCurley, The Provincial Grand Master of Tyrone and Fermanagh, R.W.Bro Maurice Lee, The Provincial Grand Master of Armagh, R W Bro David Hamilton, and The Provincial Grand Secretary, V W Bro Johnny Woods, as well as W Bro Fred Lemon from the Province of Antrim and W Bro Norman Boyd from Londonderry and Donegal. The service, was conducted by V W Bro, V Rev K R J Hall, Dean of Clogher and Provincial Chaplain. A Past Master's Board listing all 150 Past Masters of the Lodge was unveiled by The Deputy Grand Master and Dedicated by The Dean. A history of the Lodge was given by W Bro Robin Watts, MBE, Scripture Reading and prayers were said by the Lodge Chaplain and Lodge members and a most inspiring address given by Dean Kenny Hall. The Organist was W Bro Colin Beattie.
Further information and a booklet compiling the history of the Lodge is available from W Bro Charles Barr, Lodge Secretary, Crichton 204 [Tel 07754583133].