Kipling Newporton ML 315: Presentation of 50 Year jewel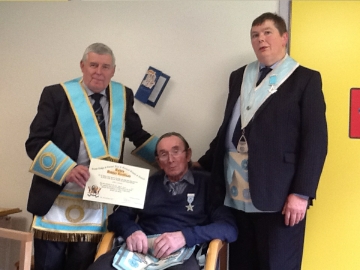 WBro. S McMullan presents Certificate to Bro.Smith with WBro. J Elliott
On Saturday, 26th August two brethren from Kipling Newporton ML No 315 travelled to Scotland to present a 50 year jewel to Bro James John Smith. The two brethren who make the trip were W Bro James Elliott [Almoner] and W Bro Stanley McMullan [Lodge Secretary]. They took with them the warm good wishes and congratulations of the Provincial Grand Master R W Bro Maurice Lee and brethren of the Lodge.
On arrival at Edinburgh airport Brothers Elliott and McMullan were met by Brother Smith's son, Gareth, who kindly transported them to Huntleyburn House, where his father resides. His daughter, Diane, was also present during the presentation. The visiting brethren were made very welcome by the family and thanked for making the journey.
Brother John Smith was initiated into Masonry on the 26th April 1966, passed to the Fellow Craft degree on the 29th November 1966 and raised to the sublime degree of Master Mason on the 20th November 1967. He received his Grand Lodge Certificate on the 26th March 1968. Brother Smith moved to Peebles in Scotland in 1977, some 40 years ago, but always kept close ties with his Mother Lodge, returning every year until recently to its Installation and Festive Board. No longer able to travel, he still maintains a keen interest in Kipling 315 and faithfully pays his yearly dues.