"Casualty" comes to Newtownstewart 547!!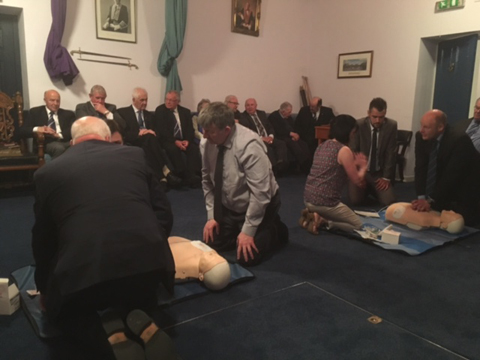 Newtownstewart Masonic Lodge No. 547 hosted a very successful First Aid training event immediately following their Stated Communication on Thursday 18th May 2017.
The training session was organised in conjunction with the Provincial Grand Lodge Physician, W. Bro. Dr. Ted Burke, who enlisted the help of Sister Flo Harper and her team from the Cardiac Assessment Unit of the Tyrone County Hospital Omagh. Flo, assisted by nurses Patricia Colton and Noreen Delaney provided an excellent demonstration on how to deal with child and adult choking cases and also the correct procedures to be applied when using CPR and resuscitation techniques - with or without the availability of a defibrillator.
The Brethren of 547 were joined by members of Gortin 994 and some of their wives to witness the demonstration and also avail of the opportunity for some "hands-on" training. Everyone present thoroughly enjoyed the demonstration and felt it was a most valuable exercise. In fact a number of the Brethren were able to recount first hand experiences when they had to personally carry out these procedures or witnessed them being done.
At the conclusion of the training the Worshipful Master, W. Bro. Robin Finlay, handed over some small gifts to Flo and her team as a token of appreciation and also expressed sincere thanks to W. Bro. Ted Burke for co-ordinating this most worthwhile event.
The Provincial Grand Lodge Physician has indicated that he would be willing to organise a similar training event for any other Lodge or combination of Lodges that would be interested.