Presentation to Marie Curie by Harmony Masonic Lodge 586 Enniskillen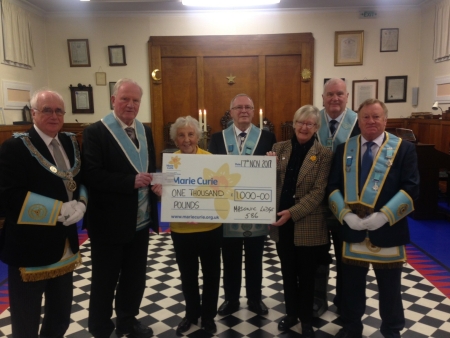 RWBro Maurice Lee PGM., WBro. Harold Martin Treas 586, Mrs Olive Elliott Marie Curie,
WBro. David Eames W.M. 586, Mrs Ruth Young Marie Curie,
WBro. David Young Secretary 586, WBro Derek Humes P.G.Insp
In September 2017 Harmony Masonic Lodge 586 Enniskillen held their annual Charity BBQ and "Night at the Races". This years agreed charity was Marie Curie.
At Harmony Masonic Lodge 586 meeting on Friday 17th November 2017 in Enniskillen, Marie Curie were presented with a cheque for £1000.00 by the Worshipful Brother Treasurer Lodge 586 Harold Martin. It was received on behalf of Marie Curie by Mrs Olive Elliott Secretary "Friends of Marie Curie" Fermanagh Branch and Mrs Ruth Young, Marie Curie Fermanagh Volunteer Services.
Also present were the Provincial Grand Master Right Worshipful Brother Maurice Lee, Worshipful Brother David Eames Worshipful Master Lodge 586, Worshipful Brother Secretary Lodge 586 David Young and Provincial Grand Inspector Worshipful Brother Derek Humes.
Both Provincial Officers were in attendance for the lodge meeting which included the presentation of a 50 year Jewel to Wor. Bro. Stuart McIlfatrick. Brother Stuart has been a stalwart member of the lodge from his initiation on 17th November 1967, holding various Offices and always willing to help when he could. He is currently one of the Lodge Auditors. The Jewel was very well deserved and the brethren responded to the award with a prolonged round of applause.