Clogher Masonic Hall Committee Vintage Run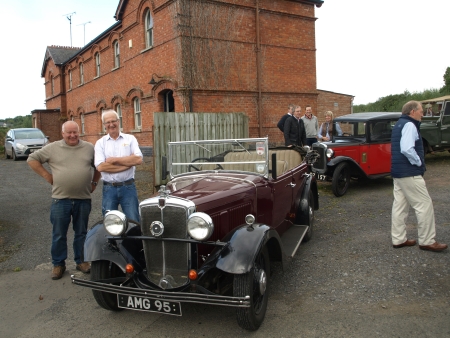 Clogher Masonic Hall Committee held their second Vintage Run on Saturday 17th September 2016. The vintage and classic car owners met at Clogher Masonic Hall where a hearty breakfast was served up by members of the Hall Committee. W Bro Gordon McLaren showed everyone around the Hall and highlighted the recent improvements carried out to the building.
W Bro Richard Mulligan then led the convoy of cars in his 1933 Morris 10/4 Tourer on a scenic route to the first stop of the day at Aughnacloy Masonic Hall. W Bro Richard Knox welcomed the visitors and proceeded to guide the group around their hall where renovation works were well under way. The historical bond between the Clogher and Aughnacloy Lodges was explained to the visitors and the Clogher brethren studied the similarities in the Lodges furniture.
The cars then moved on via country roads to Coalisland Masonic Hall where they were welcomed by W Bro Nigel Stewart members of Lodge No 300 who provided much appreciated refreshments. Everyone was very impressed with the decor in Coalisland Hall especially the Lodge room carpet and the ceiling decorations.
With everyone refreshed the cars moved onto Bonn Hall, home to Pomeroy Lodge No 836 were they were welcomed by W Bro Norman Alexander. The hall was recently rebuilt following a terrorist attack and the brethren have saved many items of historical interest which are displayed in the new building.
For the final part of the journey the cars travelled through Cappagh and Altmore on their way to an evening meal at Aughnacloy Golf Club. Following the meal W Bro Richard Mulligan presented all those who had taken part with a Finisher's Award. Those taking part included masons and non-masons and donations received amounted to £555.00. This money was presented to the Clogher Masonic Hall Committee in October 2016 to be divided between Hall Funds and Local Charities.