NI Children to Lapland Trust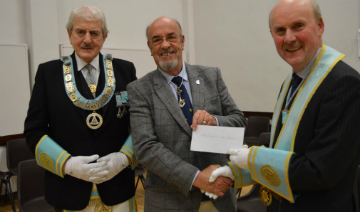 RWBro Frank Arnold PDGM, WBro Jack Rodgers Chairman NICLT,
WBro Harold Mc Kee Prov. Steward of Charities
Following a request for support for the NI Children to Lapland Trust the Province has made a contribution of £3000 to the Trust to enable terminally ill children from Tyrone and Fermanagh to visit Lapland this December.
W.Bro. Jack Rodgers MBE, Founder and Chairman of the Children to Lapland trust, attended the Provincial Grand Lodge meeting in Omagh when he was presented with a cheque in support of the Children to Lapland Trust and at the request of Provincial Grand Master addressed the meeting regarding the work of the Trust. He thanked everyone and the Masonic Order for their generosity and support, speaking of the work of the Trust he delivered a very moving account of their previous trips to Lapland and the work carried out by the Trust. The PGM advised that it was appropriate for the Province to support this most worthy cause at this time.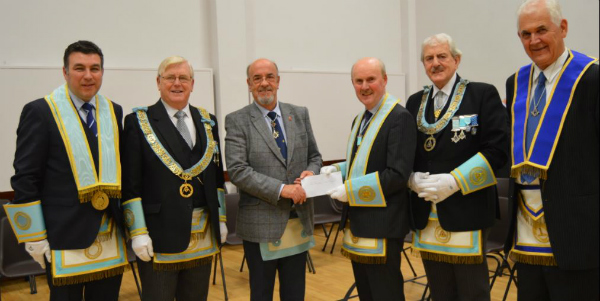 WBro Alastair Patterson, RWBro Joe Fleming PAGM, WBro Jack Rodgers Chairman NICLT, WBro Harold Mc Kee Prov.Steward of Charities,
RWBro Frank Arnold- PDGM, RWBro Harry Friar.