Lodge 586 Worshipful Master Chartity BBQ 2018.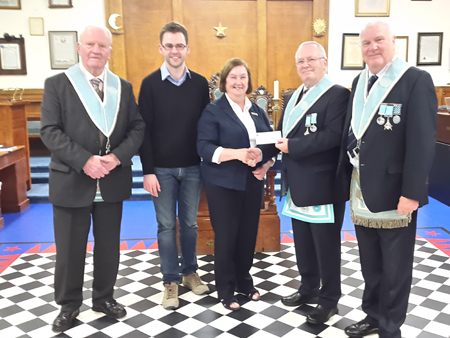 This year Masonic lodge 586 Enniskillen held their annual Worshipful Master's Charity BBQ and "Night at the Races" on Saturday 1st September 2018. It was very well attended and once again the magnificent generosity of those attending and in the donations forwarded by those unable to attend, we have raised much needed funds for our chosen charities.
This year the Lodge chose Diabetes UK (Fermanagh) to be our main charity alongside Tyrone and Fermanagh Provincial Grand Master's Charity Air Ambulance NI. Other charitable donations will be made throughout the year. On Friday 21st September 2018 in the Masonic Hall Enniskillen, Senior Brethren of Lodge 586 presented a cheque for £1000.00 to Mrs Ann Harland, Secretary of the Local Fermanagh Branch of Diabetes UK.