Presentation of 50 Year Jewel to WBro. Cecil Stevenson.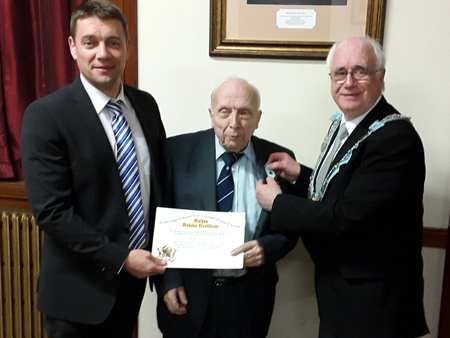 WBro.Ashley Wilkin W.M. Lodge 586, WBro. Cecil Stevenson 586, and RW.Bro. Maurice Lee PGM
On Friday 20th April 2018 one of Lodge 586 oldest and long serving brethren was presented with his 50 year Jewel. WBro. Cecil Stevenson has been a stalwart to the Lodge since his Initiation on 19th April 1968. He served as Secretary and has fulfilled many temporary officers roles over the years. His great sense of humour and witticism has always been a joy within the Lodge, both during the Communications or at the Festive Boards. We wish him many more happy years in Freemasonry and look forward to presenting him with his 60 year Jewel in ten years.
The Lodge thanks the PGM RW.Bro. Maurice Lee for his attendance and performing the presentation ceremony.