WBro. Ronnie Balfour receives his 50 Year Jewel and Certificate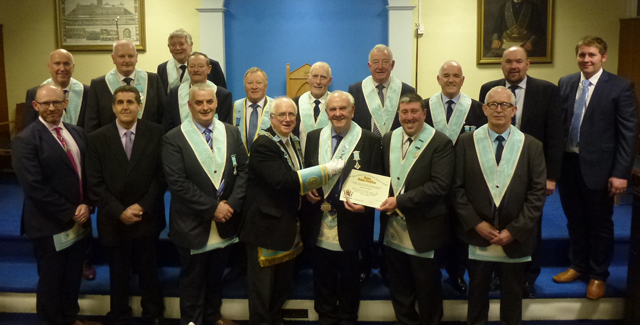 WBro Ronnie Balfour, Ederney Lodge No 819 receiving his 50 year jewel from PGM RWBro Maurice Lee, 25th January 2018
At the Installation of Officers Communication of St John's Ederney Lodge 819 held on 25th January 2018, the Brethren had the great pleasure of presenting a 50 Year Jewel to Worshipful Brother Ronnie Balfour.
Wor Bro Ronald George Alexander Balfour was Initiated into St John's Ederney 819 on 12th June 1961. He received his Fellow Craft Degree on the 28th September 1961 & finally received his Master Mason Degree on the 26th October 1961.
At first all went well with Wor Bro Ronnie and he was honoured by the Lodge in 1973 when he was installed as the Worshipful Master. After this point Wor Bro Ronnie's attendance at our Communications began to wane, but there where two very good reasons for this.
The first was that Wor Bro Balfour gained a Queens Commission in The 4th (Co Fermanagh) Battalion of The Ulster Defence Regiment. He was promoted to the rank of Major and found the task of a Company Commander much more time consuming than he had first thought. He was however justly proud to command the men and women of D Company 4UDR in the now defunct St Angelo military base. The second reason for his drop in attendance was due to the fact he was setting up a business which would give quite a number of people in the Fermanagh and wider area employment, but yet again this took up a great amount of time.
Wor Bro Ronnie has now returned to the fold, now that he has more time on his hands and the Brethren where delighted to welcome him back. Wor Bro Balfour was installed as Lodge Chaplain at this Communication.
The 50 year Jewel was presented by the Provincial Grand Master Right Worshipful Maurice Lee who expressed his delight at being asked by the Lodge to carry out this pleasurable duty.