Masons Support Air Ambulance Northern Ireland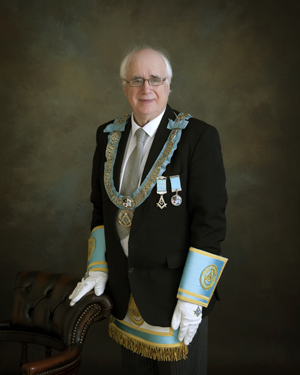 Provincial Grand Lodge of Tyrone and Fermanagh celebrated its 150th Anniversary in 2018 and to mark the occasion the Provincial Grand Master, RWBro Maurice Lee MBE, challenged each of the 41 Lodges to raise at least £150.00 each for Air Ambulance Northern Ireland. There was a ready response to the challenge and over the past 6 months masons across both counties have been organising barbecues, entertainments and other events to meet, and where possible exceed, the target set by the Provincial Grand Master.
Efforts were brought to a conclusion on Friday 12th and Saturday 13th October when in the space of 24 hours Bro Maurice visited each Masonic Lodge in his Province to collect money raised for his chosen charity. Having visited a dozen lodges on Friday evening he was in Omagh at 9.00 am on Saturday morning to receive cheques from Concord ML No 332, St John's ML No 334 and Victory ML No 689 with an additional contribution from the Omagh Class of Masonic Instruction. Following a quick cup of coffee and a photograph he was on his way to Cookstown for breakfast with Masonic Brethren in the east of the county before continuing via Dungannon and the Clogher Valley to Castlederg, a his final port of call being in Newtownstewart for a celebratory meal with the brethren of ML 547. The grand total raised for Air Ambulance Northern Ireland has yet to be confirmed but is something in excess of £30,000.