T&F Masonic Welfare Fund visits Air Ambulance Northern Ireland [AANI]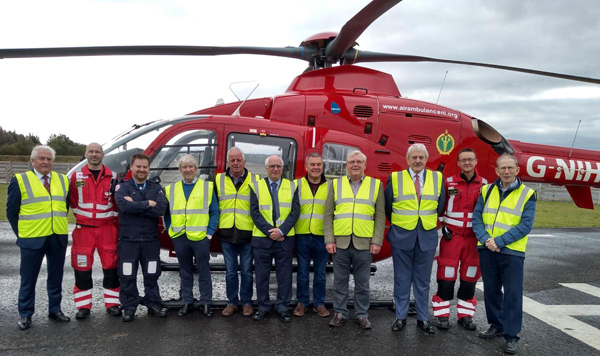 On Tuesday 15th October members of the Tyrone and Fermanagh Masonic Welfare Fund were guests of Air Ambulance Northern Ireland [AANI] at their base at Maze - Longkesh, near Lisburn. The invitation was further recognition of the very generous donation of £41,000 to AANI by RWBro Maurice Lee on behalf of Provincial Grand Lodge. This exceptional sum was raised by the 41 subordinate Lodges of the Province in response to the Provincial Grand Master's appeal for something special to mark the Province's 150th anniversary. Having set the bar at £150.00 per Lodge with the expectation of raising around £6,150 the final figure greatly exceeded all expectations - to the lasting credit of all Lodges in the Province.
On arrival the party was warmly welcomed by Ms Kerry Anderson, who heads up the AANI fundraising team. She recalled her visit to a meeting of the Provincial Grand Lodge in Omagh on 27th February where she received the cheque in a room packed with Masons in full regalia among whom was the Grand Master, MWBro Douglas Grey. She described the cheque as one of the largest single donations so far received by AANI and repeated her thanks and appreciation on behalf of Doctors, Paramedics and pilots who keep the service in the air. Following refreshments Kerry used a power point presentation to review the work of the service and illustrate the costs involved. Operative costs are £5,500 per day with an annual target of £2 million from charitable donations.
The photograph shows members of the party posing with air crew alongside the AC 135 helicopter which AANI lease form Babcock Aviation. Despite its age [it was built in 2000] it has been well maintained and is still very much fit for purpose. The duty pilot and Doctor, both on standby, gave the visitors a very good explanation about how they respond to emergency call-outs. All were urged to become AANI Partners at a cost of £2.00 per week, payable as a standing order of £100.00 per year. Kerry and the air crew were thanked for an interesting and informative visit by RWBro Lee, enthusiastically endorsed by all present.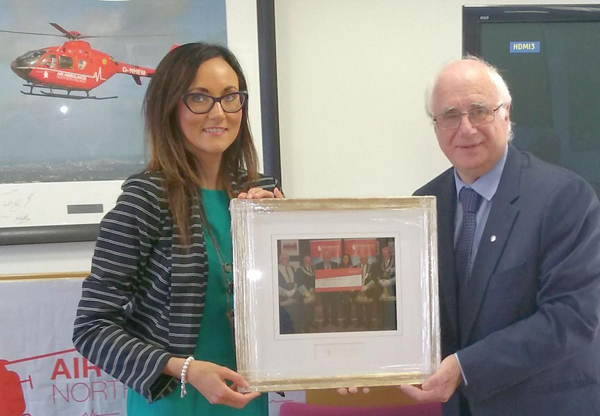 RWBro Lee receiving a momento of the visit from Ms Kerry Anderson.