Concord 332 Long Service Awards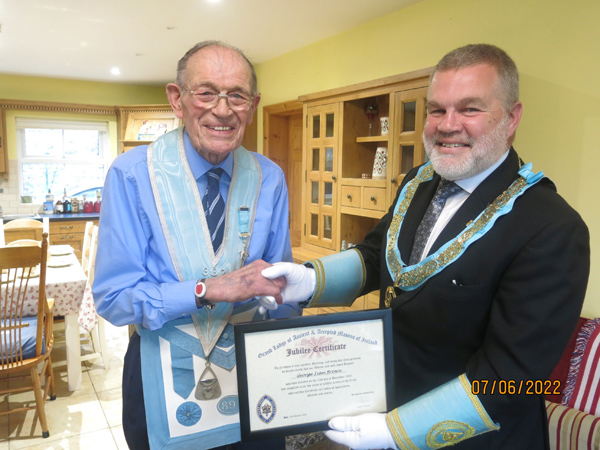 WBro Ivan Brown receiving his 65 year certificate from the Provincial Grand Master, RWBro Johnny Woods.
WBro Ivan Brown has the distinction of gaining his 65 year certificate. Unfortunately WBro Brown was unable to attend the meeting at which the presentation had been arranged. For this reason the Provincial Grand Master, RWB Johnny Woods, visited WBro Ivan at home, accompanied by the Provincial Deputy Grand Master, Jim Moore, the Worshipful Master of Concord 332, WBro Bill Reilly and the Lodge Secretary, RWBro Jim McBain. On the same occasion the PGM took the opportunity to congratulate RWBro Jim McBain on the receipt of his 50 year jewel.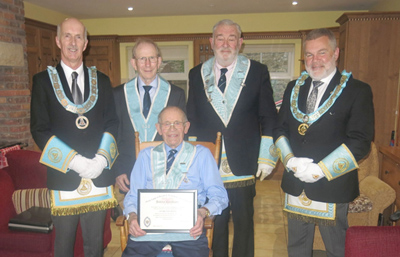 WBro Ivan Brown with PDGM RWBro Jim Moore, RWBro Jim McBain Sec,
WBro Bill Reilly WM and PGM RWBrp Jonny Woods.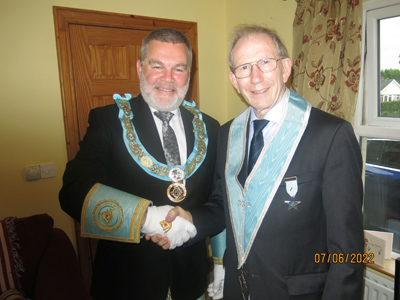 The Provincial Grand Master congratulating RWBro Jim McBain