ST Andrews 944 Moy Presentation of 60 Year certs and 50 year Certs and Jewels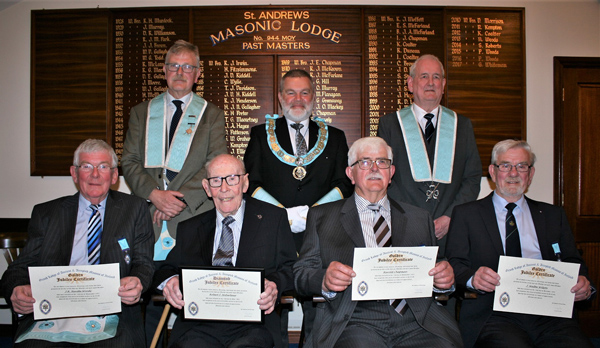 BR L-R WM WBro I Chapman, PGM RWBro J Woods, WBro S Steenson (Tres)
FR L-R WBro N Woods (50 yrs) WBro R McFarlane (60 yrs), WBro H Chapman (50 yrs), RWBro W Wilson (50 yrs)
The 11th April 2022 saw another milestone reached in the history of ST Andrews 944 Moy with the attendance of the PGM RWBro. J Woods who presented 60 year certs and 50 Year certs and jewels to five long serving brethren who&acutes service to the masonic order totalled more than 275 years since the presentation of certificates had been delayed by almost two years due to covid-19 restrictions. One note of mention is that RWB Walter Wilson had not only achieved his 50 years in December 2020 but has 100% attendance since he received his EA degree in December 1970. A record that RWB Wilson and the brethren of 944 are very proud of.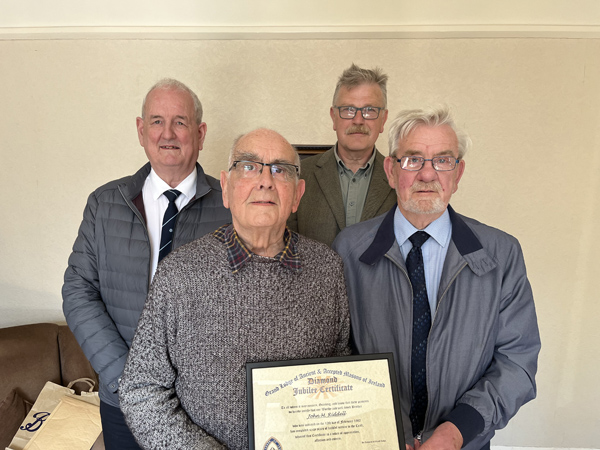 BR L-R WBro S Steenson (Tres), WM WBro I Chapman,
FR L-R WBro John Riddell (60 years) who now lives in Belfast and could not make the April presentation in Moy & RWBro W Wilson.
The presentation was made to WBro Riddell at his home in the same month.