Newtownstewart ML 547 Scotland Trip
In 2010 Newtownstewart ML 547 "twinned" with St Ninian's Lodge in Newton Stewart in Scotland and on the 18th November 2011 made their second fraternal visit to the their Scottish brethren, accompanied by one brother from Gortin ML 994. On this occasion the purpose of the visit was to attend the Installation of the W Wor Master and Officers of St Ninian's Lodge, in the expectation that this would become an annual event.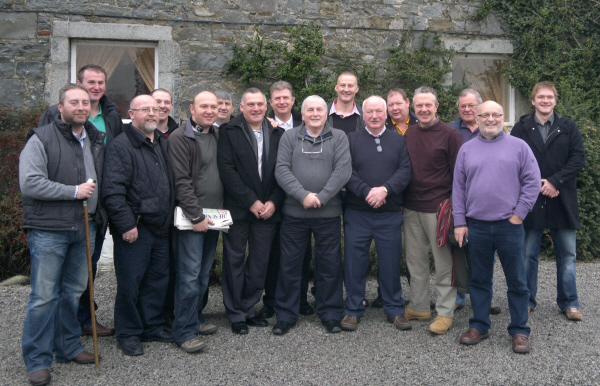 Brethren from Newtownstewart ML 547 with brethren from St Ninian's ML
Newton Stewart in the Province of Galloway on a fraternal visit to Scotland, November 2011.
The Creebridge House Hotel acted as base for the weekend and proved to be an excellent choice of venue - good food, service and accommodation being the order of the day. Following an excellent dinner on the Friday night and the sampling of the local beverages, all were present and accounted for at breakfast next morning. After spending a few hours exploring the town brethren readied themselves for the Installation ceremony at 3.30pm on the Saturday afternoon.
The 14 visiting brethren were seated in the South and after the lodge had opened Grand Inner Guard V W Bro L C J McCormick and W Bro R J McCallan were conducted into the Lodge as a deputation, followed by the Provincial Grand Master of Galloway and his Provincial Grand Officers. A knock on the door heralded the arrival of the Installing Board who then proceeded with the installation.
The Lodge was called up through the 3 degrees until it reached the Installed Masters degree, those brethren not having attained that degree then retiring from the room. It was a joy to see the ritual and listen to the members of the installing board giving an unusual but word perfect degree.
The other brethren were then recalled and the Master was saluted according to the Scottish tradition.
Before the lodge was closed V W Bro. L C J McCormick and W Bro R J McCallan made a small presentation to the Rt Wor Provincial Grand Master and V Wor Master respectively.
The brethren from Newtownstewart and Gortin then saluted the Provincial Grand Master and V W Master with a fire of nine, the salute having been called by Director of Ceremonies W Bro J S Robinson.
A sumptuous buffet, liquid refreshment and entertainment was laid on by the Scottish brethren and the visitors again sampled the local hospitality until late on Saturday night. A weary bunch of masons made their way back to the hotel in the wee small hours. After breakfast on Sunday we boarded our coach and headed to Stranraer for the 3.30pm Ferry back to Belfast and home to Newtownstewart
It was a very successful trip and has cemented the close relationship between our two Lodges. Arrangements for the return visit by St Ninians are now well in hand for the New Year.
Robin McCallan [November 2011]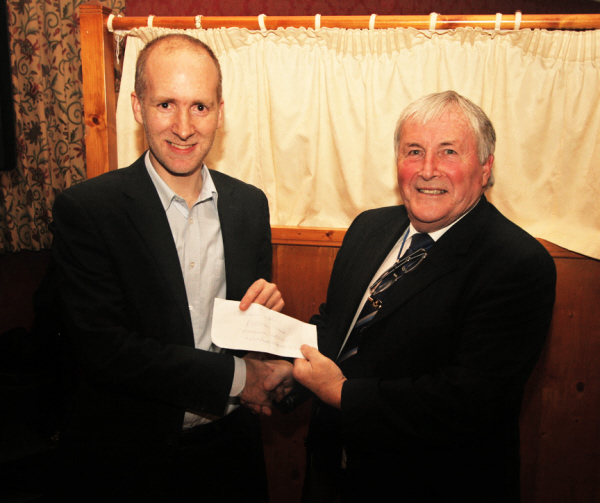 At their Ladies Night held in Newtownstewart Golf Club in October 2011, Immediate past Master W.Bro. Robin McCallan presented a cheque for £850.00 to Marcus Cooper of Arthritis Care N.I. being the proceeds from charity events run by Lodge 547 Newtownstewart. In his capacity as President of the Golf Club he also presented a further cheque for £1260.00 making a grand total of £2010.00 for this worthwhile Charity