Presentation of cheques to local charities by Scott Masonic Lodge No 300 Coalisland, February 2011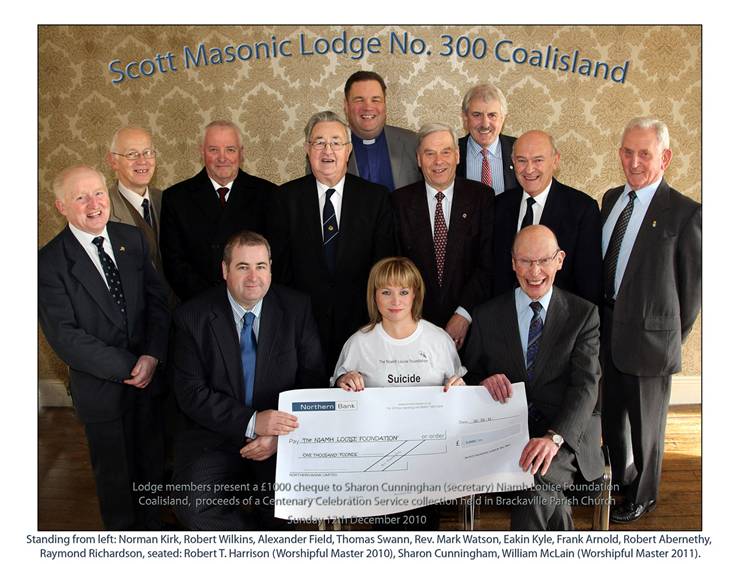 A service of 'Nine Lessons & Carols' was held in Brackaville Parish Church, Coalisland on Sunday 12th December 2010 to celebrate the Centenary of Scott Masonic Lodge No.300 Coalisland. Very Rev Kenneth R.J.Hall Dean of Clogher led the service assisted by the Rev G.M.S.Watson, both former Rectors of Brackaville parish.
The local Bella Voce Youth Choir led the praise and also contributed several beautiful festive musical pieces. Brethren from neighbouring Masonic Lodges read the lessons.
There was a large turnout in support of the Lodge Centenary which was reflected in the collection taken up in support of two local charities, The Niamh Louise Foundation & (Lilac) Life is for living after Cancer. Immediately following the service the congregation retired to the parish hall where they enjoyed seasonal refreshment.
Scott Masonic Lodge was formed in 1910, the Rev Henry Gordon Waller Scott, his brother Dr J.W.J.Scott and Robert Wilkins were granted warrant No.300 by the Grand Lodge of Ireland to provide and maintain a Masonic Lodge in Coalisland.
The Lodge was appropriately named 'Scott Masonic Lodge' in honour of the two brothers who were resident locally, one as Rector of Tullanisken Parish Church Newmills and the other as the Doctor in Coalisland. The Grandson and namesake of Robert Wilkins is the current Chaplain.