Cookstown "Green" Masonic Lodge No 470
Memorial Stone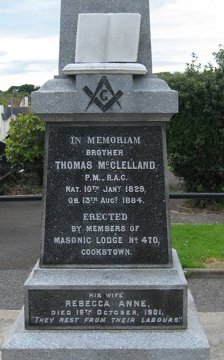 Almost 127 Years ago on 18th September 1884 the following resolution was proposed by Bro. Henry Greaves J.W., seconded by Bro. George D Gunning W.M. and passed unanimously :
"That a Subscription List be opened for the purpose of raising a fund with which to erect a Memorial Stone over the grave of our late Secretary, Brother Thomas McClelland, P.M."
The Subscription List and consequent action was obviously successful and lead to the erection of a substantial Memorial Stone and Surround to the late Thomas McClelland. This action bears testimony to not only the high esteem and respect by which their Secretary was held but obviously demonstrates the generous and sympathetic nature of the members of Lodge No. 470 in 1884, a truly charitable deed!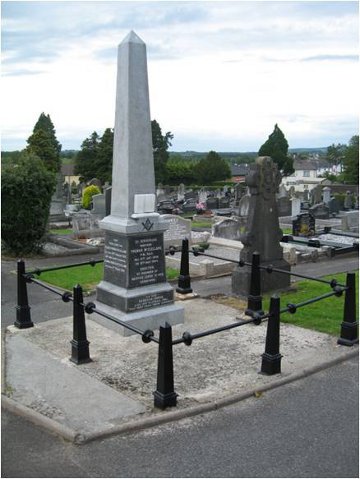 Memorial stone after the work was carried out
This memorial stone occupies a prominent and eye-catching position in Cookstown Cemetery and also makes specific reference to being erected by Members of Cookstown Masonic Lodge No. 470. However, the years have taken their toil and the stone and surround were looking rather "tired". This was noted and consequently raised at a Lodge meeting with a view to finding out more about this Memorial Stone and also to gauge the opinion and interest of current members in possibly renovating the Memorial Stone and Surround, particularly since it occupies such a prominent position in the Cemetery.
The interest generated was evident and so research began. Two excellent presentations were given at Lodge meetings during the year, revealing fascinating and very interesting facts relating to many of the members of Lodge No. 470 at that time. Having established that no family members currently exist, it was proposed, seconded and unanimously passed that we exhibit a similar caring nature as those members of 1884 and renovate this stone and surround.
Since specialist cleaning was required R. Steenson & Son - Funerals and Memorials - were asked to submit a quotation for the work to be carried out. This was provided and was favourably discussed at our Lodge meeting in May and agreed.
The work was duly carried out in June, examined by three Lodge members and accepted.
Many favourable comments have already been expressed about this renovation and I have no doubt that it will form a lasting testimony to Masonry in Cookstown in general and Lodge No. 470 in particular.
Current Members of Lodge No. 470 can be truly proud of their decision to proceed with this project and are to be congratulated.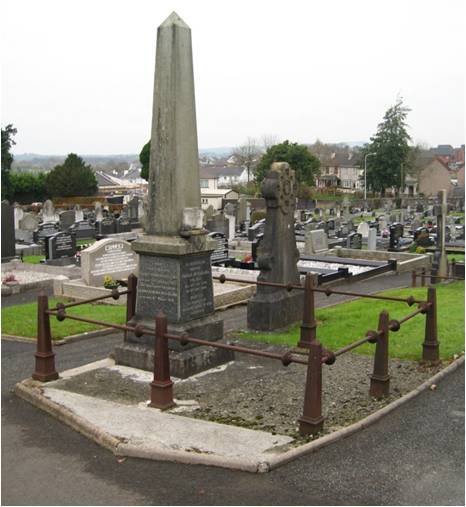 Memorial stone before the work was carried out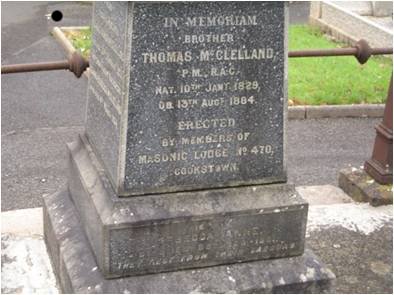 Memorial stone before the work was carried out